What is happening to insurance premiums? 
It's been and odd few years, to say the least. Politics, adverse weather and of course the Covid pandemic, very little seems stable at the moment.
To add to all of the other stressors in our lives and businesses, prices of many fundamental goods and services have been going up. Insurance is no exception. In fact in the last quarter alone, overall insurance premiums have increased on average by 35% in the UK and 18% globally.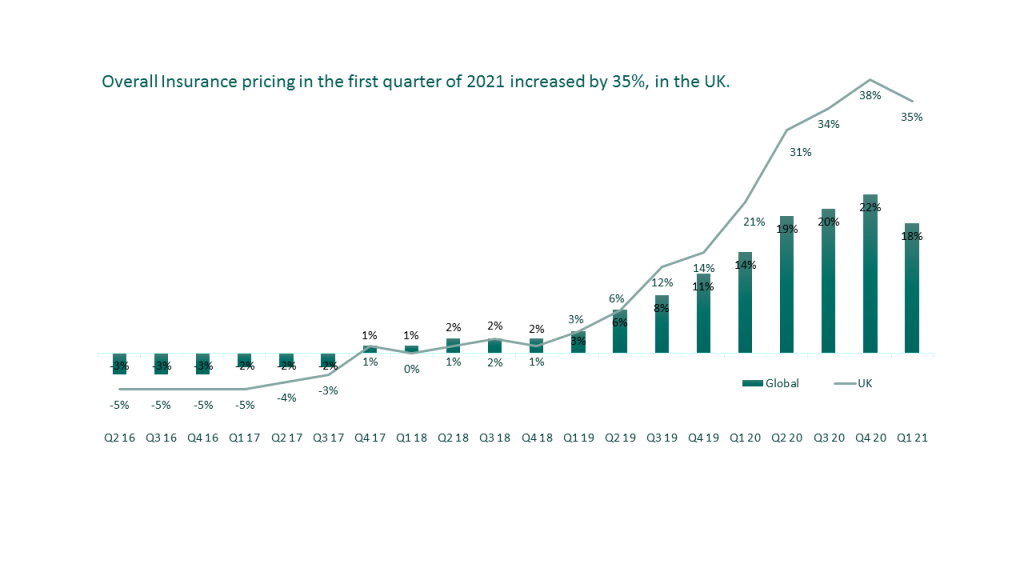 This increase varies across different classes of insurance. Liability covers saw a 7% increase last quarter. Property went up 18% and financial lines (professional indemnity and directors and officers liability) rose by an average of 71%!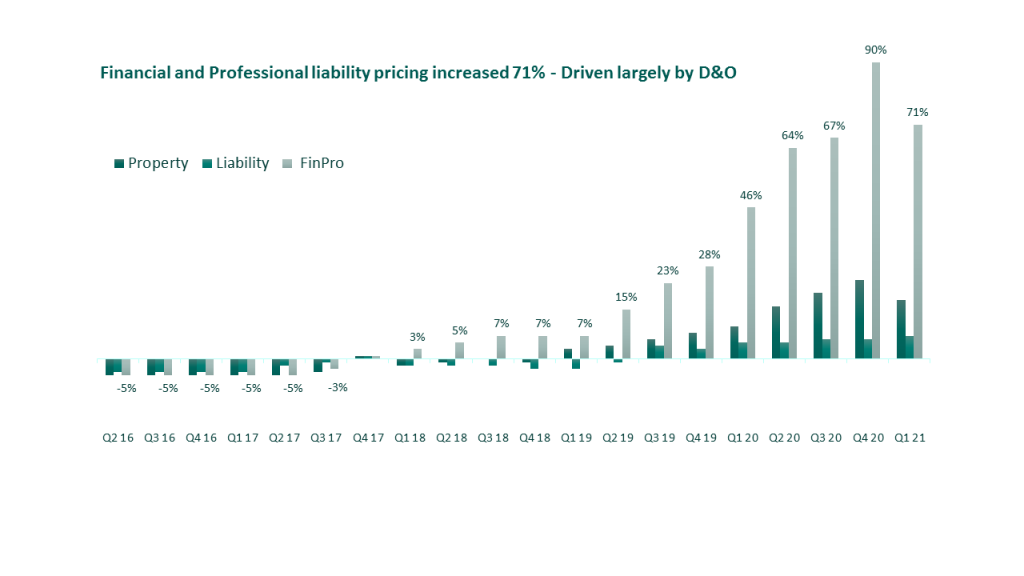 Why are premiums rising?
The last four years have seen a perfect storm of legislative changes and national events that have severely affected the insurance market:
Ogden rate changes which came into affect in 2019 have significantly increased compensation pay-outs on liability claims
The Solvency II Directive has forced insurance companies to change the way they operate and has pushed underwriting costs up
The significant flooding in January/February 2020 has pushed up property premiums
The Covid-19 pandemic has lead to an additional £1.2 billion in business interruption claims, increasing cyber crime and fraudulent and exaggerated personal injury claims.
Investment income loss caused by the combined effect of Covid19 and the challenges around Brexit. This means that insurance pools are expected to be more profitable than in the past.

What can you do about it?

Despite the challenges, some businesses are seeing increases below the average or are even saving money! The following is what we are advising our clients:

Start your renewal process early – The more time you give to your broker, the more likely they are to get you favourable terms. One of the other effects of the pandemic is insurer service levels are down meaning that quotes are taking several times longer to obtain than they did two years ago.
Volunteer lots of information – There seems to be a myth that you should only give insurers the minimum information that they request, but the opposite has always been true. The better an insurance underwriter understands your business and the risks it faces, the more comfortable they become and therefore the more open they will be to provide lower premiums and better terms. If an underwriter feels that they don't understand what they are insuring, or feel you are holding information back, they will refuse to quote (limiting your options) or they will quote a higher premium.
 Turn the negatives into positives – It may be that you have had past financial challenges like past business insolvencies, personal bankruptcies or CCJs, or you may have has past claims. Given the current environment that is becoming more likely. Rather than just giving the basic information about these events, explain the causes, any mistakes that were made and what you are doing differently now. A business that has faced challenges but come out stronger is a better prospect to an underwriter than one that might repeat the past.
Ask your broker how you can reduce risks – Insurance underwriters like businesses that take risk seriously. It might be as simple as changing your health and safety or security practices, or adopting new contracts, but any examples you can provide that you are reducing risk could lead to cheaper premiums.
Use a Broker – There are over 250 underwriters offering insurance to business and only a small handful are available online. A good broker will know which insurers to approach to get you the right deal for your business and circumstances.